Os melhores vinhos para o verão europeu, conforme a coluna do britânico The Guardian (Wine: Dave Williams on wine - Summer food & drinks), são perfeitos para o clima brasileiro quase ao começo da primavera nos trópicos.
As recomendações são, em princípio, para todos os bolsos, e cobrem tanto os vinhos brancos quanto os bons tintos e rosés.
Naturalmente, tudo muda em função da sede por taxas e impostos dos economistas governamentais brasileiros. Caso você viajar para algum dos países vizinhos, mormente no caminho do Caribe, fugindo pela Colômbia, pelo Peru, até o Panamá ou o México, verá que ao se livrar da avidez dos tributaristas brasileiros, poderá beber excelentes vinhos (como estes) a preços justos. Salud!
50 best summer wines for 2017
Drinks for a barbecue, a posh dinner – or just something to uncork on a lazy sunny afternoon? Here are the perfect choices for every budget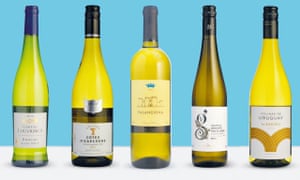 Photograph: Katherine Anne Rose for the Observer
Sunday 18 June 2017 12.00 BST
 20 best summer white wines
Château Louvignes Gaillac, France 2016 (£6.49, Lidl) From the Tarn region of south-west France, a gentle, character-filled bargain of a dry white made from local varieties mauzac, len de l'el and muscadelle that offers a lively mix of crisp green apple and spring meadow, floral freshness.
Tesco Finest Côtes de Gascogne, France 2016 (£6.50, Tesco) Although the name is often hidden behind the own-label, the Gascon Plaimont co-operative is responsible for some of the UK's best-value wines, this white combining the local gros manseng and colombard grapes for a zesty, tangy sauvignon substitute.
Marks & Spencer Falanghina Beneventano IGT, Campania, Italy 2016 (£7.50, M&S) A friend in the trade calls this kind of wine a "fridge-door white": from vineyards near Naples, it's all orange and lemon citrus juiciness with a flash of hillside herb and fresh acidity that make it the perfect, easy-drinking, post-work pick-me-up.
Morrisons Grüner Veltliner, Niederösterreich, Austria 2016 (£8, Morrisons) Markus Huber is the name behind the own-label here, the prolific Austrian producer delivering a classically styled youthful, unoaked grüner with refreshing white peppery notes and a mouth-filling mix of stone and orchard fruit.
Bodega Garzón Colinas de Uruguay Albariño, Maldonado, Uruguay 2016 (£8,Sainsbury's) The albariño grape variety makes peachy-fresh whites in Spain's Galicia, but it's found a home from home on the other side of the Atlantic in Uruguay's Maldonado region, making a briskly aromatic, subtly salty, good value dry white.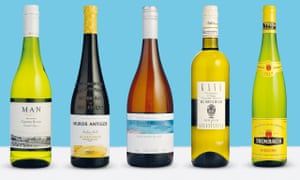 Man Family Wines Free Run Steen Chenin Blanc, Coastal Region, South Africa 2016 (from £8.75, greatwesternwine.co.uk; slurp.co.uk) South Africa is brilliant at chenin blanc – aka steen – from bush vines, making wines both rich and oaky and, in this case, clean, box-fresh and vibrantly, irrepressibly tropically fruity, always with a refreshing spine of luminous acidity.
Anselmo Mendes Muros Antigos Loureiro, Vinho Verde, Portugal 2016 (£8.95, thewinesociety.com)
Anselmo Mendes has played a big part in transforming the reputation of the northern Portuguese Vinho Verde region thanks to pristine, aromatic, summery whites such as this, with its pear, floral and herbal notes, and invigorating citrus.
Costa Fresca Sauvignon Blanc, San Antonio, Chile 2016 (£9, Marks & Spencer) Chile's Pacific coastal vineyards are now making some of the world's most arrestingly fresh sauvignon blancs, and this newcomer at M&S from Casa Marin, a pioneer of the San Antonio region, is a bracing, grapefruity, mineral delight.
La Giustiniana Terre Antiche Gavi di Gavi, Italy 2015 (from £10.99, invinitywines.co.uk; nywines.co.uk; haywines.co.uk) The kind of effortlessly smart, stylish but unshowy and food-friendly dry white that the Italians are so good at, this Piedmontese cortese shows off the variety's lemon zestiness with a delicious fluency of acidity to go with seafood linguine.
Trimbach Riesling, Alsace, France 2014 (from £11.95, thewinesociety.com; thevintner.com; justincases.co.uk) While it's bone-dry with a steely acidity, this classic Alsace riesling from one of the best addresses in the region is in no way austere, building layers of juicy peach and citrus into a sleek, delicious partner for a picnic lunch of pâtés, terrines and ham.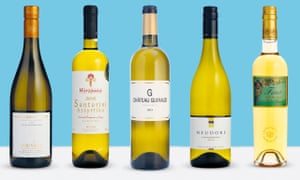 Domaine des Aubuisières Cuvée de Perruches Vouvray, France 2016 (£11.99, or £9.99 as part of a mixed case of six, majestic.co.uk) Delightful, honeyed chenin blanc from the Loire, with a touch of sweetness smoothing out the swish of acidity and Cox's apple tanginess. A wine that works equally well with a slab of sour-creamy Lancashire cheese or mildly spicy south-east Asian salads.
Hatzidakis Santorini Assyrtiko, Greece 2016 (£13.99, Waitrose) Working with the tried and trusted partnership of assyrtiko grown on Santorini's volcanic soils, one of Greece's best winemakers has produced an electric dry white wine filled with pithy, aromatic lemon and minerals for washing down barbecued fish.
Le G de Guiraud, Bordeaux, France 2015 (from £15.95, fromvineyardsdirect.com; henningswine.co.uk) From one of the best producers in the sticky sweet sauternes business, a no-less brilliant dry white that uses the traditional bordeaux blanc recipe of barrel-aged sauvignon blanc and semillon to create a taut, subtly smoky, tropical-fruited classic.
Neudorf Nelson Chardonnay, New Zealand 2014 (from £16.50, thewinesociety.com; nywines.co.uk; etonvintners.com) Tim and Judy Neudorf were among the first to realise that New Zealand – specifically the Nelson region of the South Island – had the potential to make Burgundy-challenging chardonnay, this vintage offering a refined mix of smoky-flintiness and luminous fruit.
**Gonzalez Byass Fino Dos Palmas, **Jerez, Spain NV(£16.99, 50cl, Laithwaites) A glass of pale chilled fino sherry is hard to beat as an aperitif; all the more so when it's as good as this superb example, from the people behind the reliable Tio Pepe brand, with its extra levels of yeasty-savoury and salted-nut flavours.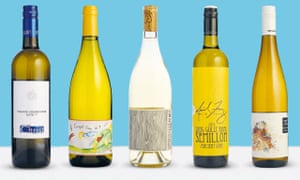 Weingut Christ, Wiener Gemischter Satz, Austria 2016 (£17.88,alpinewines.co.uk) Vienna is the only capital city that also doubles up as a wine region, with vineyards a stroll away from the city centre. Its wines have never been better, as this graceful, floral, complex, but refreshing and lightly spicy white blend shows.
Alemany i Corrío Cargol Treu Vi, Penedès, Spain 2015 (from £19, vagabondwines.co.uk – in-store only; drinkmonger.com) Made by a Catalan-Breton couple, this 100% xarel·lo shows just how good this variety – best known as one of the trio used to make cava – can be on its own: white peach, blossom and a mouthwatering chalky-mineral texture add up to a superbly gastronomic dry white.
Broc Cellars Love White, Central Coast, California, USA 2015 (£22, robersonwine.com) Inspired by the hazy, autumnal fruitiness of the white wines of the Rhône Valley, this blend of marsanne with a little roussanne and viognier from a star of California's more balanced new generation is succulently mouth-filling with juicy ripe pear.
David Franz Long Gully Road Ancient Vine Semillon, Barossa Valley, Australia 2014 (£24.50, thegoodwineshop.co.uk; twentyonewines.com) Do old vines really make better wines as so many labels imply? This beautiful dry white made from 129-year-old vines would certainly suggest they do: light on its feet with brisk, nervy acidity, the palate reverberates with leafy freshness, juicy lime and toast.
Vinteloper PG/16 Pinot Gris, Southern Fleurieu, Australia 2016 (£26, redsquirrelwine.com) From vineyards in the relative cool of South Australia's Fleurieu peninsula, this gorgeous take on Alsace pinot gris from an exciting new-wave Australian producer fills the nose with summer-garden scents and the mouth with juicy, herb-and-spice-inflected stone fruit.
20 best summer reds and rosés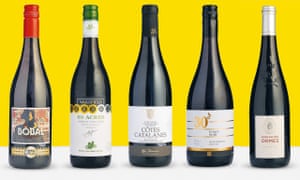 Wine Atlas Bobal, Utiel-Requena, Spain 2015 (£4.98, Asda) The retro-packaged Wine Atlas selection of wines around a fiver is the highlight of the Asda range, and this is the pick of the reds for a party. From south-eastern Spain, it's a juicy, youthful red with bright, sweet berry fruit made refreshing by a plum-skin tanginess.
Wakefield 80 Acres Carbon-Neutral Shiraz Viognier, South Australia 2015 (£6.99, Aldi) The eco-sentiment is to be applauded, even if there are other wines made in carbon-neutral conditions without saying so on the label. The wine is good, too: a dusky, heartily ripe-fruited shiraz with a soft, smooth feel for a (carbon-neutral) barbecue.
Domaine des Ormes Saumur Rouge, France 2014 (£7.49, The Co-op) With its crunchy red and blackcurrants, leafy freshness, and briskly energising acidity, this superb-value Loire cabernet franc is the epitome of summer red wine, working equally well chilled down with salmon, tuna, or grilled red meat.
Morrisons The Best IGP Côtes Catalanes, Roussillon, France 2015 (£7.50, Morrisons) From just over the border with Spain, this is a powerful Mediterranean red with a distinctive earthy and bushy herb seasoning to go with its bright ripe blackberry fruit, a personality that naturally goes rather well with herby, charred lamb.
The Co-op Irresistible Casablanca Valley Pinot Noir, Chile 2016 (£7.99, The Co-op) Chile's original cool-climate hotspot now has more competition from vineyards even closer to the Pacific, but this light, fragrant, but plumply red-fruited pinot shows it can still come up with the elegant goods: serve it cool but not too cool, with cold meats and salad.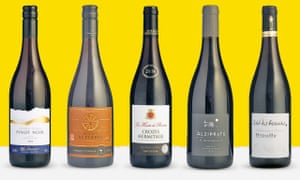 Morrisons The Best Otago Pinot Noir, Central Otago, New Zealand 2015 (£9.75, Morrisons) Few red wines are as immediately appealing as good Kiwi pinot, and this is excellent value for a wine made in one of the country's best spots for the grape, central Otago, with a lovely quality of pure raspberry and cherry and fine, silky tannins.
Miguel Torres Reserva de Pueblo País, Chile 2014 (from £9.95, farehamwinecellar.co.uk; slurp.co.uk; nywines.co.uk) One of the more curious developments in Chilean wine over the past decade has been the rehabilitation of the previously unloved país variety. Torres has been at the forefront of the revival, its joyously juicy strawberry-scented example showing off what it can do.
Cave de Tain Les Hauts de Pavières Crozes-Hermitage, France 2014 (£11.99, Waitrose) Waitrose has 25% off on this textbook northern Rhône syrah for the next month, taking the price down to £8.99: excellent value for a vibrant, supple, bramble fruit red with classic black pepper seasoning and tarry-charry meatiness.
Domaine Alzipratu Corse Calvi Rouge Cuvée Fiume Seccu, Corsica, France 2015 (£12.50, thewinesociety.com) As you might expect from its geography and history, Corsica's wines are a kind of stylistic halfway house between southern France and Tuscany, a combination that makes for succulently evocative, sinewy, garrigue-scented reds such as this.
Domaine Cret des Garanches Brouilly, Beaujolais, France 2015 (from £13.50, vinovero.co.uk; prohibitionwines.com; smilinggrape.com; josephbarneswines.com) From the excellent 2015 vintage, a charming beaujolais that's full of the region's trademark sappy crunchiness but with an extra level of pretty, red berry fruit that's refreshing when served slightly chilled alongside charcuterie.
Zorzal Eggo Malbec, Gualtallary, Argentina 2015 (£16, Marks & Spencer) Named for its use of cement eggs rather than oak barrels in the winemaking process, and you can see the effects in the pure, unmediated fruit that just sings with lavender, wild herbs, and spice, the palate almost pinot noir-like in its silkiness. Superb.
Alpha Estate Hedgehog, Amyndeon PDO, Greece 2013 (£16.70, maltbyandgreek.co.uk) One of the best things about Greek wine is the trove of indigenous grape varieties, and the red ximomavro is perhaps my favourite of all. This beautifully judged version from relatively high altitudes in northern Greece has an Italianate cleansing cherryish acidity, and ethereal aromas to go with its charred red meat-friendly tangy red and black fruit.
Sottimano Langhe Nebbiolo, Piedmont, Italy 2013 (£19.50, leaandsandeman.co.uk) Nebbiolo is the ingredient in the two great powerhouses of Piedmont, barbaresco and barolo. This bottling is designed to be a little more accessible in price and style, with gorgeously lucid red fruit combining with floral and herbal fragrance and red-meat friendly grip.
Teusner The Riebke Shiraz, Barossa Valley, Australia 2014 (£19.99, Waitrose) Clocking in at 15% alcohol, this is a powerful wine for sure, but what elevates it (indeed all of Kym Teusner's wines) over many of its old-school Aussie rivals is the vivid freshness of the sweetly plummy fruit, with the dusting of cocoa and spice, and fine soft tannins making this a very superior barbecue bottle.
The summer rosés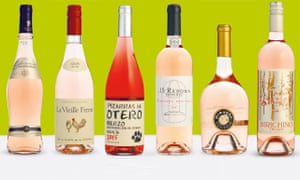 Exquisite Collection Côtes de Provence Rosé, France 2016 (£5.99, Aldi)
Its pastel-shaded stylings have been borrowed by winemakers all over the world but Provence remains the spiritual home of refreshingly dry, pale rosé. The soft strawberry, spicy redcurrant, and fresh acidity of Aldi's version is excellent value.
La Vieille Ferme Rosé, Côte du Rhône, France 2016 (£6.99, The Co-op) The Perrin family is responsible for some very smart bottles in the Rhône, but the wines it makes under its budget La Vieille Ferme label are just as impressive in their way, with the softly engaging red fruit of this new-season rosé being particularly delightful.
Pizarras de Otero Mencía Rosé, Bierzo, Spain 2015 (£8.99, or £7.49 as part of a case of six bottles, majestic.co.uk) If pale Provence is rosé for white wine lovers, this vivid north-western Spanish rosado is made for red wine drinkers in need of a little more refreshment. Made from mencía, it's aromatically pretty but robustly fruity with enough guts to match red meat.
**Niepoort Redoma Rosé, **Duoro, Portugal 2015 (from £15.30, fieldandfawcett.co.uk; corksofbristol.com; highburyvintners.co.uk) One of Portugal's greatest winemakers, Dirk Niepoort, brings all the sensitivity he applies to his fine Douro red wines and ports to this refined rosé, which has a fine-line of mineral acidity to go with its subtle cherry and raspberry.
Miraval Côtes de Provence Rosé, France 2016 (from £17.99, majestic.co.uk; Sainsbury's) The future of Brangelina's wine estate may be tied up with the fall out from their divorce, but the latest vintage shows its acquisition was one of their wiser investments: layered, graceful, and pure, it's a very superior rosé that justifies its elevated price tag.
Birichino Vin Gris, California, USA 2016 (from £18, Morrisons; thegoodwineshop.co.uk) This will be a bold new addition to the ever-improving Morrisons wine range when it arrives in August; for now The Good Wine Shop is the place to go for a textured, intensely spicy, herby, citrus-pithy Mediterranean-inspired Californian rosé.
10 best sparkling wines and champagnes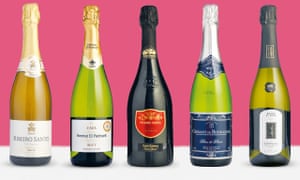 Ribeiro Santo, Dão, Portugal NV (£7.99, Lidl) Portugal may not be the first place that springs to mind in relation to quality sparkling wine, but this charming blend of the local arinto and bical grape varieties has a cava-esque quality of crisp, sour apple and creaminess that works very well at the price.
**Heretat el Padruell Cava Brut, **Spain NV (£8.50, Marks & Spencer) Made from the traditional cava trio (macabeo, xarel·lo, and parellada) and aged 12 months before release, this lively, authentic cava, with its orange-citrus, apple and lemon curd mousse is so much more interesting than most sub-£10 prosecco.
Cantina Cleto Chiarli Pruno Nero, Modena, Emilia-Romagna, Italy NV (£12.50, greatwesternwine.co.uk) There's something about the vivid splash of black cherry colour and flavour in this intensely fruity Italian sparkling red that never fails to raise a smile, the sheer exuberant juiciness combining with a nip of tannin to make a fine accompaniment to antipasti.
Caves de Lugny Blanc de Blancs Crémant de Bourgogne, France NV (£14.75, Oddbins) The rise in sparkling wine sales is the biggest single trend in recent years. Burgundy, with its stocks of chardonnay vines, has been well-placed to take advantage with classy but affordable crunchy apple, pear and subtle brioche-flavoured fizz such as this.
**Adriano Adami Bosco di Gica Prosecco Superiore di Valdobbiadene, **Italy NV(£17.95, wineutopia.co.uk) A considerable step up from the sweet sherbet-and-pear frothiness of most mainstream prosecco, this is a beautifully balanced fizz with a gentle seam of mountain-stream acidity, blossom and mouth-filling ripe stone fruit.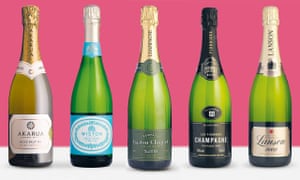 Akarua Rosé Brut, Central Otago, New Zealand NV (from £19.25, nzhouseofwine.co.uk; wineutopia.co.uk; justincases.co.uk) A Kiwi pink champagne-alike made from the same varieties (chardonnay and pinot noir) and using the same, bottle-fermented process, this is seriously classy fizz, with great depth of savoury pastry and red fruit flavour and soft creamy mousse.
Wiston Estate Brut, West Sussex, England NV (from £22.95, henningswine.co.uk; corneyandbarrow.com; harveynichols.com) With the talented Dermot Sugrue at the winemaking helm, West Sussex's Wiston Estate has surged to the front of the increasingly competitive English fizz pack, this non-vintage blend showcasing a super-dry, incisive, multi-layered house style.
Gaston Chiquet Champagne Brut, France NV (from £25, Morrisons.com) From one of the best of the récoltant-manipulant (grower-producers) who have challenged the grand houses in champagne in the past couple of decades, this non-vintage blend is typically racy and refined with a nutty savouriness that is incredibly moreish.
Les Pionniers Vintage Champagne, France 2008 (£25.99, The Co-op) A perennial favourite of mine in the ranks of own-label champagne, this Piper Heidsieck-made blend of pinot noir and chardonnay is in stunning form in the great 2008 vintage, deep, rich and creamy with classic patisserie and tangy fruit flavours.
**Lanson Gold Label Vintage Champagne, **France 2008(£40, Sainsbury's) Like Les Pionniers, this is another example of the pleasure on offer from one of the best recent vintages in Champagne, feeling super fresh and young at almost nine years old, with gingerbread, orange and lemon, and patisserie cream around a spine of taut acidity.